Adidas Fabela X Empower Blue
These women's hockey shoes are built with energy-returning cushioning, they feature a lightweight textile upper and a stretchy sock-like fit. The TPU outsole provides optimal traction while exploding along the defense.
Read the full product description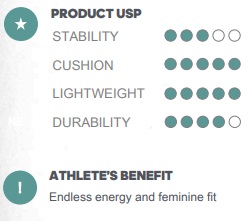 Boost Midsole: Combines extraordinary cushioning and energy return.

Speed-up midsole shape: Lets the forefoot be close to the ground for direct control and natural gait.

TPU outsole: very resistant, supports multidirectional movements and offers an ideal grip.

Stretchy inner sock: Provides the player with an unparalleled glove-like fit.

Protection zones against impact: foil-coated synthetic layers provide additional protection against water and impacts of the ball.
Sock-like fit: The lightweight and flexible textile upper with a bootee construction for a sock-like fit ensures absolute comfort, while TPU overlays provide extra support in the impact zones.
High performance TPU outsole: The highly durable TPU outsole with a grid structure provides maximum traction on the grass and allows fast acceleration.
Full-length cushioning: Boost is the most responsive cushioning ever with energy return during the game: the more energy you give, the more energy you get.