Adidas Hockeyshoes Flexcloud Maroon/Orange
The Adidas Flexcloud Maroon/Orange hockeyshoes. Cushioned and flexible, these hockey shoes offer a comfortable, supportive fit. A breathable air mesh upper provides ventilated comfort, while a grippy outsole keeps you a step ahead of defenders. The TPU to
Read the full product description
Order Adidas Flexcloud Maroon/Orange hockeyshoes
Cushioned and flexible, these hockey shoes offer a comfortable, supportive fit. A breathable air mesh upper provides ventilated comfort, while a grippy outsole keeps you a step ahead of defenders. The TPU toe cap offers protection as you dribble, pass, shoot and score.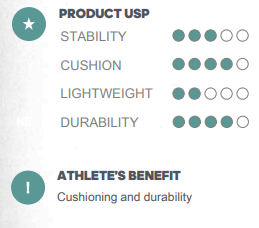 Air Mesh Upper: The air mesh upper with foil overlay provides a breathable, yet robust upper to withstand the forces on the Hockey field.
TPU Toe Cap: Provides extra protection against impacts from the ball.
TRAXION Outsole: TRAXION outsole for maximum grip in all directions.
Cloudfoam Midsole for enhanced cushioning.


2-tone mesh upper:
These shoes offer a comfortable and supportive fit, with a breathable air mesh upper providing ventilated comfort and synthetic overlays adding extra support.
TPU toe cap:
The external TPU toe cap with an internal foam cover provides extra protection against impacts from the ball.
Cloudfoam:
Delivers step-in comfort and supoerior cushioning support, adding to the internal support of the heel and arch.