Adidas Hockeyshoes Zone Dox Orange/Maroon
Adidas Zone Dox 1.9S Orange/Maroon hockeyshoes. It takes speed and strategy to get to the striking circle. These field hockey shoes are lightweight and sleek, so you can move with nimble precision. Sprintframe gives you stability and support so you can ac
Read the full product description
Order Adidas Zone Dox 1.9S Orange/Maroon hockeyshoes
It takes speed and strategy to get to the striking circle. These field hockey shoes are lightweight and sleek, so you can move with nimble precision. Sprintframe gives you stability and support so you can act on split-second decisions.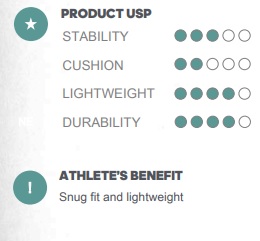 Sprintframe Outsole: Provides rock solid stability at high speeds with its extremely lightweight SPRINTFRAME outsole
Lightweight EVA midsole: Offers cushioning and flexibility for long lasting comfort.
Lightweight stability upper: Provides breathability and additional stability at the ankles.
Stretchable inner sock: Provides the player with an unmatched glove-like fit.
Perforated sock:
The perforated inner sock ensures a snug fit and ventilation throughout the match. Breathability is further support by the lightweight mesh upper.
Textile bands & foam toe cap:
The upper mesh with textile bands at the ankle provides a lightweight feeling with extra stability. The internal toe cap with foam cover offers extra protection against impacts from the ball.
Sprintframe construction:
The sprintframe provides rock solid stability at high speeds and utilized geometric research to create a lightweight and supportive chassis.