Wide range of hockey bags at Jumbo Hockey
Jumbo Sports has taken over the Hockeypoint website. This means that from now on you can go to Jumbo Hockey for a wide range of hockey bags, including stick bags, backpacks, shoulder bags or goalkeeper bags, from all top brands.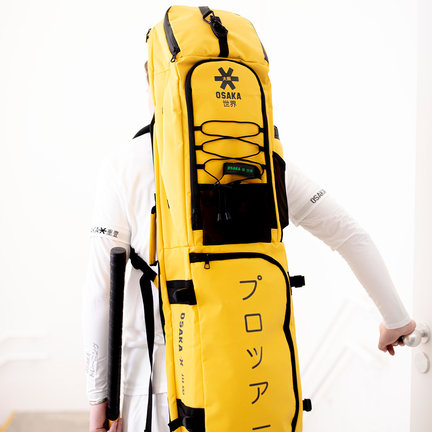 Hockey bags
If you are going to play hockey, it is nice if you can store your stick and other hockey gear somewhere. At Jumbo Hockey you will find the largest range of hockey bags. Whether you are looking for a stick bag , backpack , shoulder bag or goalkeeper bag . At Jumbo Hockey you have come to the right place. We have hockey bags from brands such as Brabo, Osaka, The Indian Maharadja, Grays and other top brands. From very large hockey bags to backpacks where the stick can be put in or on. View our hockey bags on our website or in our physical store in Kerkrade! 
What do you pay attention to when buying a hockey bag?
There are a number of things you want to consider when purchasing your new hockey bag. First of all, the question of how much stuff you want to take with you and whether you want to put it all together in the bag. There are bags with enough space for a whole goalkeeper outfit , but also bags that can only carry the bare essentials . Then there are different ways how your stick is in the bag or can be attached to it. One bag also has many more compartments than the other, so think about what you find useful! (Tip: an extra compartment for your dirty laundry can be very useful) If you are looking for a bag in which you can store your stick, we offer both a backpack with a stick holder and a shoulder bag with a stick holder . We also have hockey bags in which you can store several sticks, so-called stick bags . If you only want a bag for your hockey gear, we offer different gym bags .
If you have questions about our range of hockey bags or if you need advice with your purchase, we are at your service. Contact us and we will be happy to help you!
Jumbo Hockey Always the best for you !