Hockey bags
Want to buy a hockey bag? Hockeypoint has hockey bags in all shapes and sizes. Each hockey bag (with the exception of gym and player bags) is equipped with a stick holder. Read more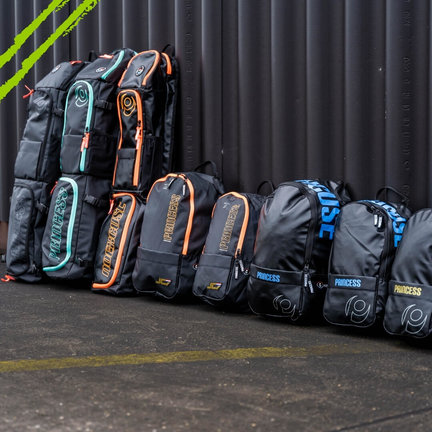 If you play hockey regularly a good bag to carry your stick or hockeygear will come in handy. Hockeypoint offers the largest and most varied range of hockey bags. With a minimum stock of 1500 hockey bags you always succeed at Hockeypoint. View the hockey bags on our website or in our physical store in Kerkrade!
Which hockey bags can you choose from?
Hockey bags come in many shapes and sizes. For example, are you looking for a bag in which you can store your stick or are you looking for a bag in which you can also store your hockey equipment? If you are looking for a bag in which you can store your stick, we offer both a backpack with a stick holder and a shoulder bag with a stick holder . We also have hockey bags in which you can store multiple sticks, so-called stick bags . If you only want a bag for your hockey gear , we offer various gym bags . For the team players and demanding hockey players among us, we also have special player / club / team hockey bags . If you need a bag for hockey balls, we have a variety of hockey ball bags . Finally, we also have a wide range of goalkeeper bags. In short, something for everyone!
From which brands of hockey bags can you choose?
All these hockey bags are from top brands, so you can be sure that you are buying a good quality hockey bag. Are you looking for a new hockey bag, then you can choose from brands such as Adidas , Blackbear , Brabo , Dita , Grays , Indian Maharadja , Kookaburra , Malik , Naked , OBO , Osaka , Princess , Reece , Ritual , STX , TK and Young1 .
Why buy your hockey bag at Hockeypoint?
If you have questions about the right type of hockey bag or the various brands of hockey bags that we offer or if you have any other questions, our specialist team is ready for you! The hockey bags that you find at Hockeypoint are of high quality and at the best price. In addition, Hockeypoint offers a standard discount of at least 15% online on all hockey bags! Furthermore, orders above € 50 are shipped for free. If you order your hockey bag today before 5.30 pm, we will send it to you the same day. This means you already have your hockey bag at home in the next few days. If your new hockey bag is not to your liking, you can easily return it. And if you have questions and / or need advice, you can always contact us. We are glad to help you!
Hockeypoint......gets you playing!