Hockey balls
Such a large variety! With a minimum stock of 10,000 hockey balls, you always succeed at Hockeypoint. Hockey balls ..... that's our thing. We have them in stock in all colors and quality classes. Own production and of all 'major' hockey brands. Read more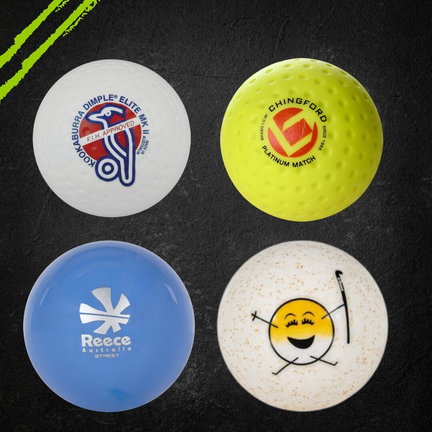 As a hockey player you need a hockey ball to play hockey. Whether you are the purchaser for a hockey club or if you want to play hockey hockey yourself, you will need one or more hockey balls. Hockey balls come in all kinds. With a stock of over 10,000 hockey balls, you always succeed at Hockeypoint, both as an individual player or as a purchaser for a club. View the various types of hockey balls that we offer on our website or in our physical store in Kerkrade.
What types of hockey balls can you choose from?
There are different types of hockey balls that you can choose from. There are hockey balls for on the field or for indoor . You can also opt for street hockey balls . These are lightweight balls ideal at home or in the garden. Finally, you can also have hockey balls made with your own logo or sponsor logo and we offer deals, such as a combination deal where you buy Kookaburra hockey balls and receive ball bag for free. Are you looking for a hockey ball bag or crate or a hockey ball cannon , please contact us!
Which brands of hockey balls do we offer?
We offer hockey balls from top brands, so you can be sure that hockey balls you play with are of good quality. You can choose from brands such as Brabo, Grays, Hockeypoint, Kookaburra, OBO, Reece and TK. And of course you can also create your own hockey balls at Hockeypoint. Every year we produce tens of thousands of hockey balls for many national and international hockey clubs. Requesting your own hockey balls from us is simple.
Why buy hockey balls at Hockeypoint?
The hockey balls from Hockeypoint are of high quality and at the best price. In addition, Hockeypoint offers a standard discount of at least 15% online on all hockey balls! Furthermore, orders above € 50 are shipped for free. If you order your hockey balls today before 5.30 pm, we will send your order to you the same day. If the hockey balls are not to your liking, you can easily return them. And if you have questions and / or need advice, you can always contact us. We are happy to help you!
Hockeypoint......gets you playing!