Hockey clothing
You can buy hockey clothing quickly and competitively at Hockeypoint. From competition uniforms, training clothes, thermal clothing to coach jackets and from the best socks to winter hats. Hockeypoint has everything in stock! Read more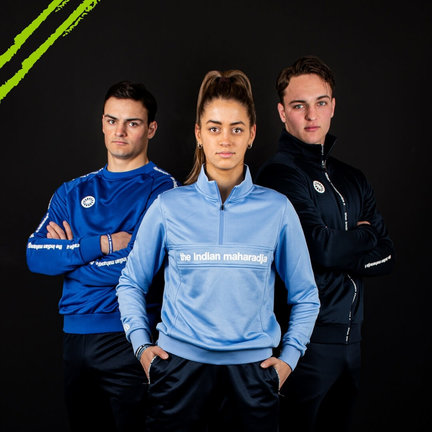 Need new hockey clothing? Hockeypoint has all kinds of hockey clothing in stock. Think hockey skirts, hockey pants, hockey shirts, hockey underwear, hockey socks and much more. You can find our offer in our physical store in Kerkrade or on our website!
Wide range of hockey clothing
Are you looking for a new hockey outfit or for one or more specific garments? Then you are at the right place at Hockeypoint. We always have the latest collection of hockey clothing at home. These are garments from real top brands such as Adidas, Brabo, Indian Maharadja, Naked, Osaka, Reece, Dita, Grays and many more. We also sell team clothing, KNHB, DHB, Red Lions and Red Panters clothing and we produce sublimation clothing entirely according to your design.

Why buy hockey clothing at Hockeypoint?
Hockey clothing that you buy at Hockeypoint is of high quality and at the best price. In addition, you will receive a standard discount of at least 15% on your hockey clothing order online! Furthermore, orders with a total amount of more than € 20 are shipped for free. If you order new hockey clothing today before 5.30 pm, we will send it to you the same day. This way you will have your new hockey clothing at home the next day. If the garments are not to your liking, because they are too small or too large or not as expected, you can easily return them and possibly order them again in the correct size. And if you need questions and / or advice, you can always contact us. We are ready for you!
Hockeypoint......gets you playing!