Hockey socks
Hockey socks for a whole team or fun socks for yourself. We really have everything. The funniest and of course also functional hockey socks. And our stock is so large that we deliver very quickly. Read more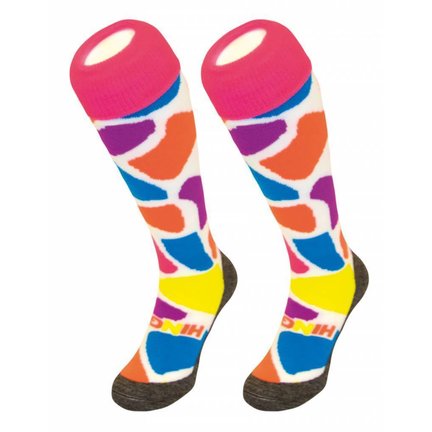 Hockey socks

Wearing the correct hockey socks is very important. Hockey socks must provide space for your shin guards, not retain the moisture and ensure that you do not get pressure marks. At Hockeypoint we know this and we offer high quality hockey socks. View our offer online or in our store in Kerkrade.

What types of hockey socks can you choose from?

We offer many types of hockey socks: fun hockey socks, plain hockey socks and under socks, also called shinliners. Fun hockey socks are funny, cheerful and cool hockey socks. These hockey socks are all about fun. We also have plain hockey socks. These are hockey socks of one color without further print. Finally, you still have under stockings, or the shinliners. These are a kind of hockey socks, but without a foot meant to wear under the shin guard. The shin guard comes over the shinliner and over it the real hockey sock. Shinliners prevent irritation to the skin.

What choices do you have when purchasing hockey socks?

We offer these types of hockey socks for both adults and children. You can choose your size and color. Finally, we offer various brands of hockey socks that you can choose from. If you can't find what you're looking for, you can contact us and we will help you further.

What brands of hockey socks are there?

With the plain hockey socks you can choose from the brands Adidas, Brabo, Dita, Indian Maharadja, Osaka, Stag and Stanno. In addition, fun hockey socks you can choose from Brabo, Hingly, Osaka, Reece and Stag. If you are looking for shinliners, you can choose from Brabo, Grays, Kookaburra, STX, Stanno and TK.

Why buy hockey socks at Hockeypoint?

Our hockey socks are of high quality but at the best price. In our webshop we give a minimum discount of 15% on our products as standard. If you order your new hockey socks today before 5.30 pm, we will send it the same day! If the hockey socks turn out to be not to your liking, you can easily return them. And if you have questions about our range of hockey socks or need advice on finding the right hockey socks, we are happy to help you!
We are not satisfied until you are satisfied!
Hockeypoint......hockey with a smile!