Blackbear goalkeepershop
BlackBear, the new brand for hockey goalkeeper material. BlackBear is new. BlackBear is different. BlackBear is there for the hockey goalkeeper. The entire collection of BlackBear is not only available online at Hockeypoint but also physically in our excl Read more
0%

95,- € 95,-

Do you want to be able to make the fastest movements ? Then these legguards are great. The...

-10%

230,- € 206,99

Designed in conjunction with keeper Maddie Hinch. The improved mid-section provides more s...

-10%

260,- € 233,99

Designed in conjunction with goalie Maddie Hinch. The shootout hockey stick, ideal for goa...

-10%

149,- € 133,99

The ROBO StraightAs has been completely renewed. The new mold / shape and the changed comp...

-10%

109,- € 97,99

The Cloud StraightAs is the new stick in the OBO Goalkeeper Stick line. Due to the perfect...

-10%

69,- € 61,99

The Yahoo StraightAs is the new junior stick in the OBO Goalkeeper Stick line. Due to the ...

-10%

150,- € 134,99

The G1 Fatty may look like a player stick at first glance, but it has been specifically de...

-15%

59,99 € 50,99

The G2 is designed to be both light and ultra-thin, with an increased hitting surface.

-37%

95,- € 60,-

BlackBear hockey bodyprotection. Top Quality and best price ! available in S, M en L

-25%

79,- € 59,25

The ideal goaly pants. High protection and maximum freedom of movement.

-17%

119,99 € 99,55

The Brabo Goalie F3 goalkeeper stick has been specially developed in collaboration with th...

-17%

69,95 € 58,09

The Brabo Goalie F1 Original Junior goalkeeper stick has been specially developed for youn...

Ordered before 5.30 pm and in stock: shipped same day.
Free shipping from € 30,00
Easy returns!

-10%

180,- € 161,99

• Ultrahigh balance point to increase agility.
• Reinforced mid-section to improve st...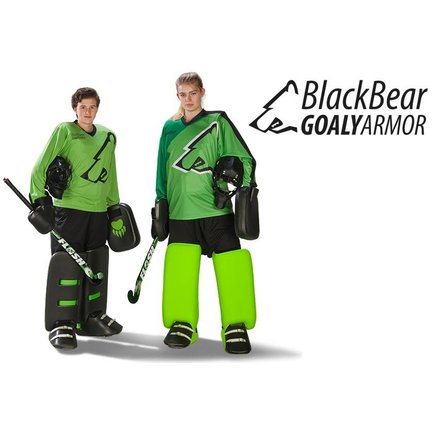 BlackBear, the new brand for hockey goalkeepers exclusively in the Hockeykeepershop of Hockeypoint
BlackBear is new. BlackBear is different. BlackBear is there for the hockey goalkeeper. The entire collection of BlackBear is not only available online at Hockeypoint but also physically in our exclusive keepershop at our office in Kerkrade.!
BlackBear is a new player in the hockey goalkeeper market. A new provider of hockey goalkeeper materials. Where some brands only focus on the top, BlackBear just plays on all teams and especially the wide teams. With only one goal: to help every hockey goalie with good, affordable and comfortable equipment.
The developers of BlackBear have years of experience on the hockey field and therefore a lot of insight into the problem that it is not so easy for hockey goalkeepers to be able to play in well-fitting goalkeeper equipment. Many hockey clubs indicate that they have difficulty with the high costs for the training and goalkeeper materials. Often broadcots with poorly fitting and worn material play in a colorful mix of colors. That the hockey goalkeepers themselves are not happy with that is very understandable. After all, good equipment not only increases the fun, but also the performance!
The solution of BlackBear Goaliearmour
From the idea that well-fitting equipment, which is also affordable and looks beautiful, has become a Black Goaly armor: a complete hockey goalkeeper's equipment made of durable, comfortable and fashionable materials. By keeping the entire process under control - from production and sales to distribution and after-sales - BlackBear can keep hockey equipment affordable. Together with Hockeypoint, BlackBear puts these new and innovative materials on the market.
Meet BlackBear at Hockeypoint
Of course Hockeypoint shares the enthusiasm about the products of BlackBear goaly armor. BlackBear is one of the 5 hockey goal brands that are available and are in stock in our goalkeeper shop.