Wide range of hockey shoes at Jumbo Hockey
Jumbo Sports has taken over the Hockeypoint website. This means that from now on you can go to Jumbo Hockey for a wide range of field hockey shoes and indoor hockey shoes, for both junior and senior, from all top brands.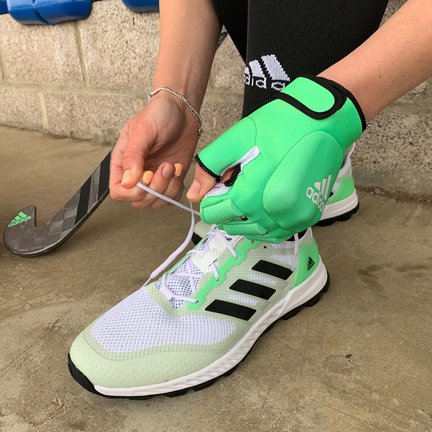 Hockey shoes are an indispensable part of your hockey outfit. Hockey shoes are mandatory on the field and in the hall. You have men's hockey shoes , ladies , boys and girls . Are you looking for indoor hockey shoes or field hockey shoes ? Jumbo Hockey has a huge range of field and indoor shoes.
What should I pay attention to when choosing hockey shoes?
There are four things you want to pay attention to when choosing the right hockey shoes. First of all, the shock absorption . When you run, your feet take quite a beating. By buying hockey shoes with cushioning, you ensure that your knees and feet are relieved and the various shocks are absorbed. Most of the shock absorption is determined by the thickness and hardness of the midsole.

Next, comfort is very important. Make sure the shoes are not too big or too small. A foot must not slide in length and width. This can cause blisters. The optimal wearing comfort is when there is half a centimeter - this is thumb width - between the top part of the toe and the edge of the shoe. When you try on hockey shoes, you have to make sure that you try them on with hockey socks .

Third, you want to pay attention to support and stability . It is important that the feet cannot slide or twist in the shoe. A sturdy hockey shoe provides stability and this reduces the risk of ankle injuries. You want the shoes to fit snugly around the heel and that the heel counter is high enough to encompass the heel (the heel shouldn't slide up and down as you walk).
Finally, a good grip is essential for pushing off and stopping, but also prevents you from sliding during the game. You need a different type of grip for different types of surfaces. Hockey is often played on (wet) artificial grass, it is good to choose a profile for the surface you mainly play on.
What size hockey shoes?
Every person is different and every brand is different. We therefore recommend that you always fit the shoes properly according to the guidelines above, you can do this by visiting us in the store or by ordering the shoes and trying them on at home.
How often do you have to buy new hockey shoes?
It differs per person how often you have to buy new hockey shoes. Your shoes may be completely worn out after one season, but who knows, they can also last a second season. This mainly depends on how you play and how often you play. The main thing is to pay close attention to the sole. Do you still have grip or is it completely worn away? You do want to buy new shoes in time, otherwise you run the risk of injuries because you no longer have a grip or the cushioning has decreased too much.
To ensure that your shoes last as long as possible, it is important to maintain them properly. Spray them with dirt and moisture-repellent spray, do not let them dry near a heat source and keep them fresh with our solutions from Shoefresh !
What are the best hockey shoes?
The best hockey shoes are the shoes that best suit you and what you want to do with them. Can't figure it out yourself? Visit our store in Kerkrade or contact us!
Jumbo Hockey Always the best for you !