Field hockey sticks
Hockeypoint.nl is the right place for a new field hockey stick. As a hockey specialist with a large store in Kerkrade, we always have more than 3500 of the latest sticks in our range! Read more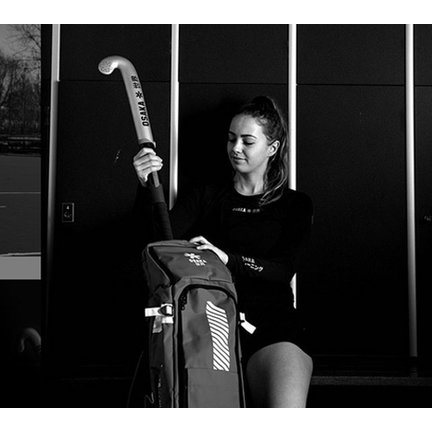 What types of field hockey sticks are there?
We sell field hockey sticks for both adults and children. We have created separate categories for this. So you can immediately see all field hockey sticks that are suitable for you, as an adult or as a child. You can first choose which material you would like for your field hockey stick. You can choose between composite with carbon in various degrees or a wooden stick. You can also determine the curvature of your field hockey stick. Generally speaking, there are three different curves: mid-bow, low-bow and extreme low-bow. Finally, we also sell school (field) hockey sticks in sets of 5. These are hockey sticks intended for use at school or the hockey school of the hockey club.
What brands of field hockey sticks are there?
We offer a wide variety of brands. You can choose from Adidas, Brabo, Grays, Indian Maharadja, Kookaburra, Osaka, Reece, Ritual, and TK. In short, all top brands of field hockey sticks can be found in one place.
What size field hockey stick do you need?
Not sure what size field hockey stick you need? No problem, this is easy to find out. Measure the length from the floor to your belly button. Do not forget to put on your hockey shoes. Then divide this measured distance by 2.54 and you know your size field hockey stick in inches. If the size is at least 92cm (36,5 inches), then you should be looking for an adult field hockey stick. 
How do field hockey sticks differ from indoor hockey sticks?
Field hockey sticks differ from indoor hockey sticks in various ways. First of all, a field hockey stick is heavier than an indoor hockey stick. In addition, indoor hockey sticks are flatter than field hockey sticks. On the field, a ball is played by hitting and not by pushing. For this reason, field hockey sticks also wear out faster than indoor hockey sticks.
Why buy your field hockey stick at Hockeypoint?
We offer an extensive range of field hockey sticks, selected by our team of specialists. Even better: we provide a standard discount of at least 15% on field hockey sticks. In addition, orders with an order value higher than €50 are shipped free of charge (depending on destination). Ordered today before 5.30 pm means that your field hockey stick will be shipped the same day! If the order is not to your liking, you can easily return the field hockey stick. And if you have questions about our range of field hockey sticks or need advice with your purchase, we are there for you. Contact us and we will gladly help you!

Hockeypoint.....gets you playing!