Goalkeeper sticks
A hockey goalkeeper often plays with a different stick than the field players. Are you looking for a wide choice of goalkeeper sticks? Hockeypoint has a huge collection of goalkeeper sticks in stock. For sale online with the 'lowest price guarantee'! Read more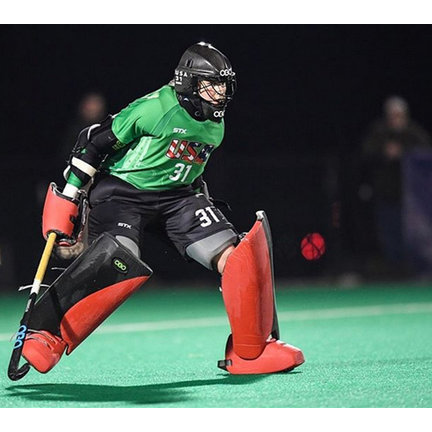 As a hockey goalkeeper you play with a different type of hockey stick than the field hockey player. As a hockey goalkeeper you are one of the most important players in the field: you prevent the ball from getting in the goal. A goalkeeper stick must be able to stop hard balls. This requires a special kind of hockey stick. At Hockeypoint you will find a wide range of goalkeeper sticks in stock. You can view and buy your goalkeeper stick online and in our physical store in Kerkrade!
Goalkeeper sticks with a curl
We have 2 types of goalkeeper sticks, there is a goalkeeper stick with a special curl and a straight, often heavier and thicker goalkeeper stick that resembles a field hockey stick. The goalkeeper stick with a special curl, also called Santa stick, has a curve in the straight part of the goalkeeper stick. This curve gives the goalkeeper stick a larger surface, so that balls can be held back better.
What options do you have when purchasing your goalkeeper stick?
When purchasing a goalkeeper stick, you can first choose between goalkeeper sticks for adults and goalkeeper sticks for children. You can also choose which goalkeeper stick material you want: composite or a combination of composite and carbon. Often there is also a choice of color. Naturally you can choose from some top brands.
From which brands of goalkeeper sticks can you choose?
The goalkeeper sticks we sell come from the real top brands in the field of goalkeeper gear. You will find goalkeeper sticks from the brands Brabo, Grays, Kookaburra, Malik, OBO, Princess and TK. If you need advice on which brand of goalkeeper stick is suitable for you, please let us know.
Why buy your goalkeeper stick at Hockeypoint?
At Hockeypoint you will find the largest goalkeeper collection. As a hockey goalkeeper you can contact us for your entire goalkeeper equipment. The goalkeeper sticks that we offer are selected by specialists. This ensures you of a high quality goalkeeper stick. In addition, we have standard online discounts on our products and we offer the best prices. Furthermore, orders over €50 will be sent to you free of charge. If you order your goalkeeper stick before 17:30 today, it will be shipped the same day. If the goalkeeper stick is not to your liking, you can easily return it. And if you have questions about our range of goalkeeper sticks or need advice when purchasing, we would like to hear from you. We are here for you!
Hockeypoint......gets you playing!