Hockeybags
Buy hockeybag? Hockeypoint has hockeystick bags in all shapes and sizes. Each hockeybag (except player bags) is provided with a stick holder.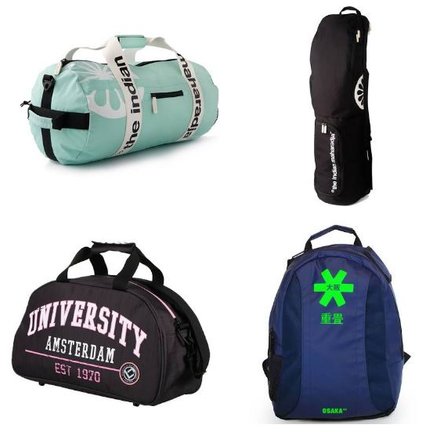 Always a free nametag with every hockeybag.
Buy hockey bags online at Hockeypoint
What a choice ..... With a minimum stock of 1500 hockeybags you always succeed  at Hockeypoint.nl.   As a hockeyspecialist, we always have the latest collection of bags in our range, at guaranteed lowest prices.  You will find  all 'big' hockey brands such as Dita, Reece, Brabo, Stag, Adidas, Gryphon, Osaka, The Indian Maharaja, JDH, Grays, Kookaburra and our own production shopping bags
Hockeypoint.nl has the largest collection of hockey bags. From backpacks, bowlingbacks and stickbags to goalkeeper bags . In the category 'bags' you always find what you are looking for.
And the price? Hockeypoint.nl uses a standard 15% percent discount on all hockey bags.  
Do not know what or how to choose? Do not hesitate call our helpdesk: 045-5353970 or chat live with our employees via the site.
Buy hockey bags online.
Buying a hockey bag online is easy and fast via our webshop. If the chosen item does not meet your expectations, you can always return it and you will get the purchase price back. In addition to the entire collection of bags, which you will find in our webshop, you can also contact us for all your accessories. Grips, balls, sticks, clothing, protection or shoes are easy to order in our webshop or come and look and test in our 500m2 hockey shop in Kerkrade.
We are not satisfied until you are ! Hockeypoint......hockey with a smile !